Mad Science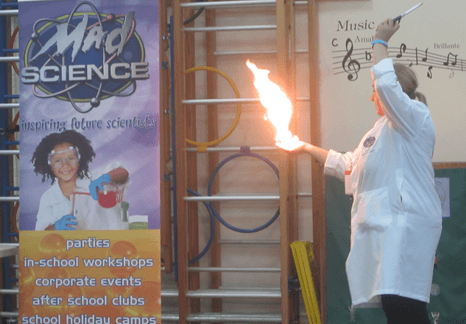 Mad Science came into school & set our assembly on fire! Mad Science is a leading science enrichment provider, they deliver unique science experiences for children which are fun but also educational!
1
Well Done & Thank You
Well done to Italy Class on their successful coffee morning raising a marvellous £167 for Macmillan! We look forward to the next Coffee Morning on the 19th October which will be lead by Singapore Class for Parkinson's UK.
A huge thanks to the children for bringing in their 2p's to place round the track for one of our children who has been in hospital since the start of term.
The total raised came to £244.84 which will be used to buy the little girl a present - thank you to everyone for your support for this family at such a difficult time. l
Health & Safety
Parking around school: We ask that everyone parks considerately around the school site. The school car park is for staff & visitors & those who have a permit (available from the School Office). The speed limit in the car park is 5mph.
The school grounds: The tennis courts & the Early Years garden are only for use with supervision during normal school hours.
Punctuality: The school gates open at 8.40am & close at 9am. Any child arriving late should use the main entrance so that they can be added to the electronic attendance and lunch registers. The late book also needs to be completed at the Main Office window.-
ICT & e-Safety
Click here to read a leaflet all about keeping children safe online. It gives advice on using the Internet safely at home, useful websites, simple rules and how to use these rules.
s

Restorative Practice at Carr Green Primary

Our primary goal at Carr Green is to help children to become reflective, confident and caring young people. The 'atmosphere' of our school is vitally important to us and so we encourage the use of 'classroom voices'and 'playground voices' for children and adults. The video below explains more...